Out now:
Thank You for the Kiss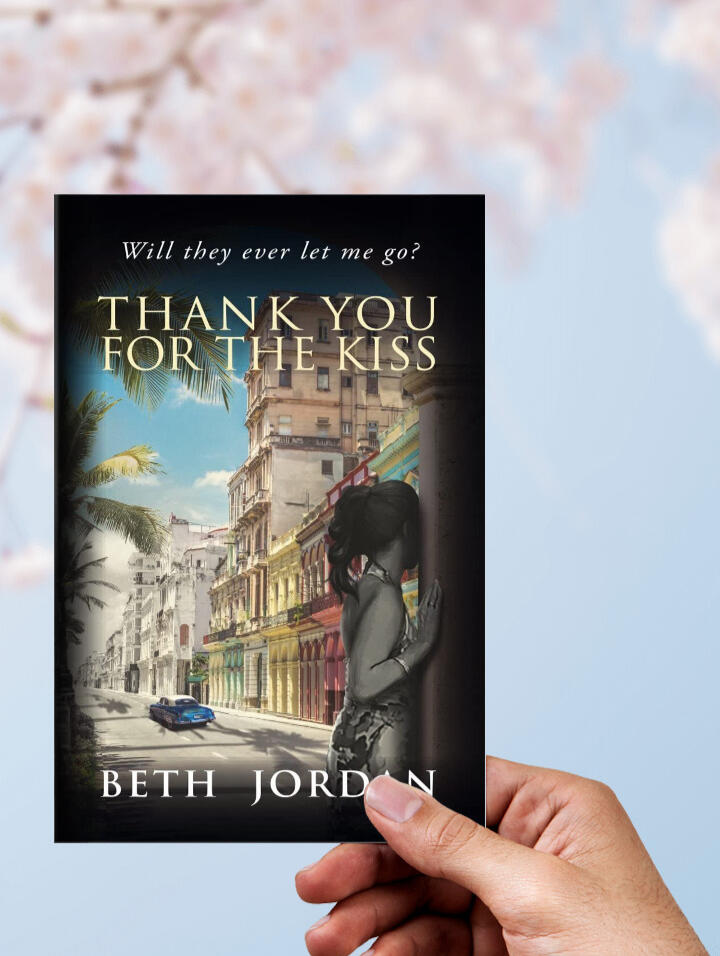 Hello and welcome to my website.I'm Beth Jordan and my brand new book Thank You for the Kiss is out now.The title is a hint of the story as it unfolds over the course of nine months in Cuba, a period of pregnant moments, giving birth to the unexpected.You can read more about it here, and you can order a copy directly from this site.And the Kindle e-book is now available too.
Sign up below for publication updates and other news
Thank You for the Kiss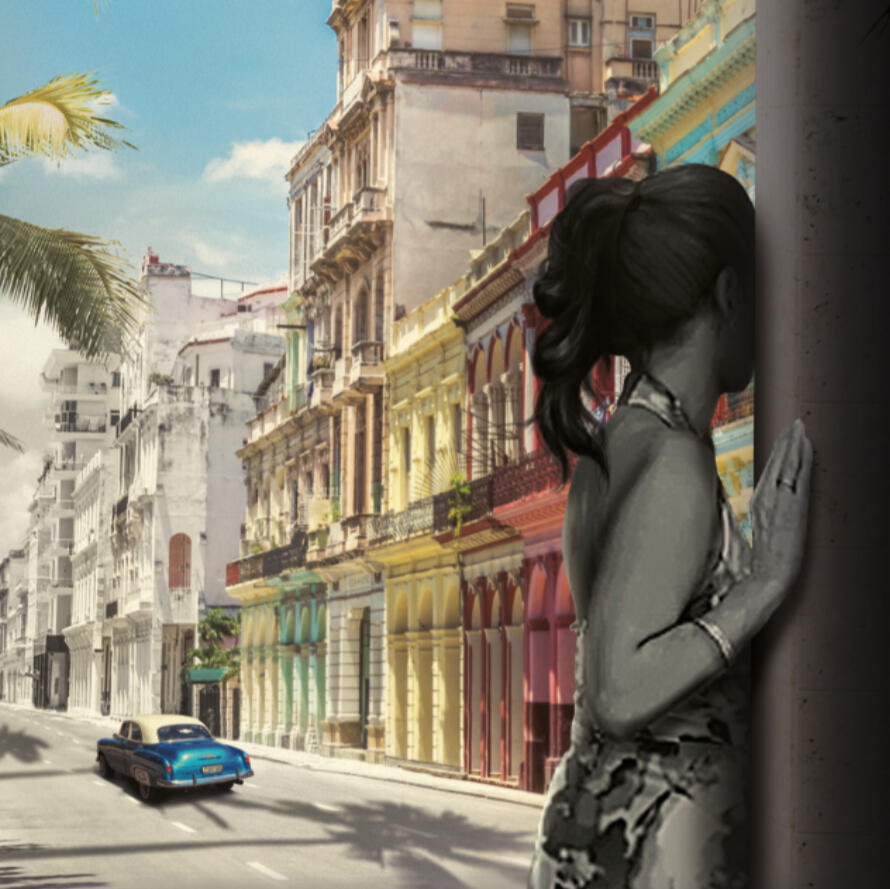 A tropical island drenched in diverse cultures and peoples...
About the Author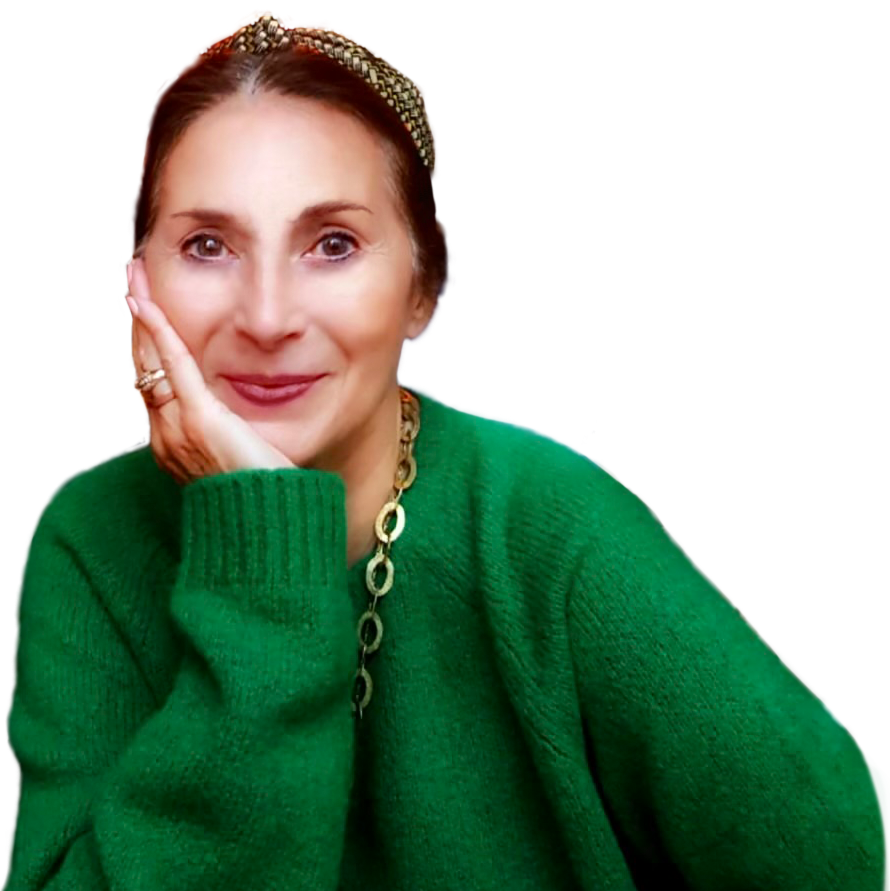 Find out more about Beth and why she wrote Thank You for the Kiss
Buy the Book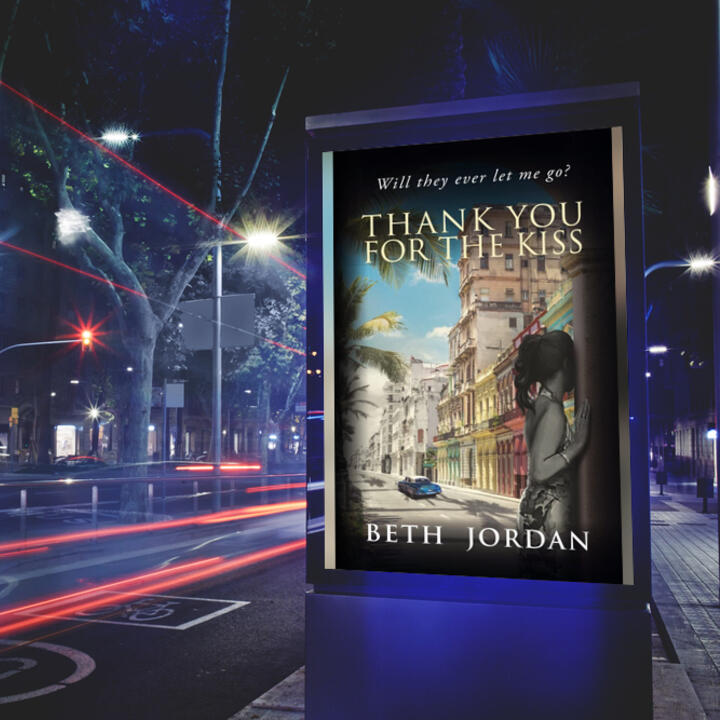 You can pre-order your signed paperback of the book now
A tropical island drenched in diverse cultures and peoples. A place of vibrant and dangerous liaisons. A country still in a time warp, its cities bathed in faded glory, its people still living an old man's dreams.Gina travels to Cuba for a long-awaited holiday. She wanders into paradise amid the lushness and enchantment of welcoming, smiling people, who celebrate her arrival by sacrificing a pig. As she witnesses its slaughter she begins to wonder if she too will become a part of this sacrifice.She's well-travelled and thinks she is worldly wise, until by chance she meets a young Cuban in a darkened club in Havana. His beguiling eyes are more dangerous than a snake, his strike more deadly than its venom. He steals her mind and leaves behind a torrent of emotional destruction. But snakes twist and turn as they slither, and the ending of this story may not be as you imagine.Constant murmurings and whispers of be careful, take care, cuidate, follow her.She should have listened. She should have read the signs. She should have known better.What made her ignore all those warnings?Thank You for the Kiss, a memoir, is a story inspired by real-life events, unexpected, powerful and shocking.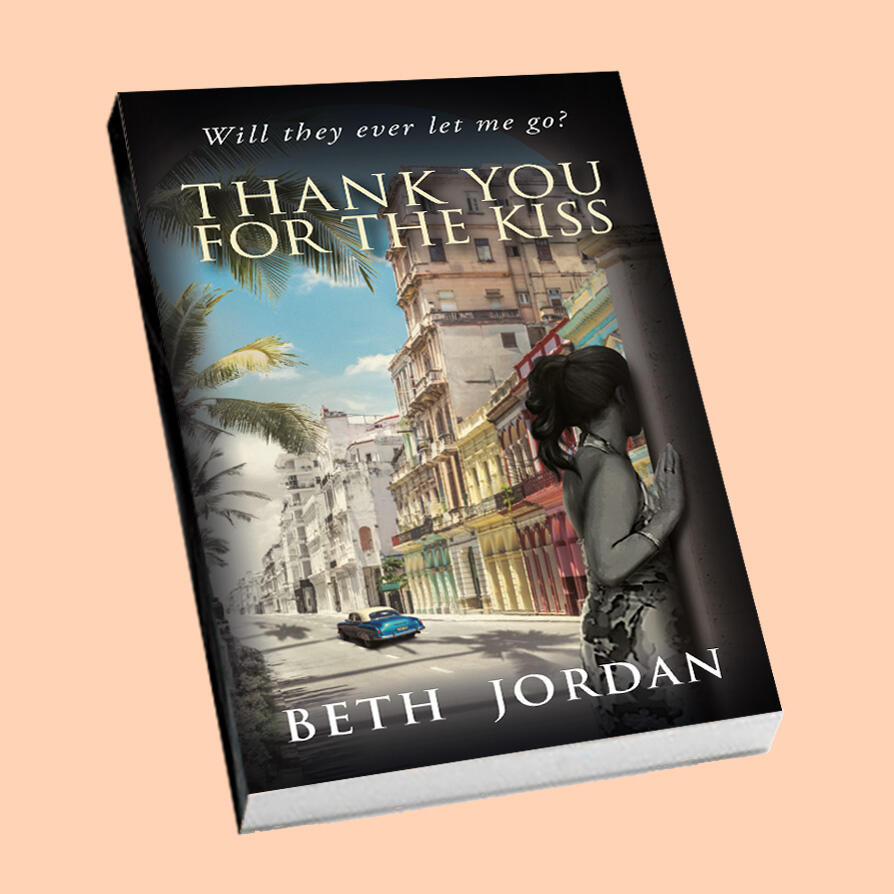 As you open this book, be prepared to be transported to the hot Caribbean climate with its intoxicating aromas and pulsating salsa beat. Gina was captivated by the beguiling nature of Cuba but got more than she bargained for. But take care, as everything is not as it seems when she meets Alex.This book will appeal to adventurers with romantic inclinations but there is a warning to be on their guard against the allure of the magnetic pull of this fabulous but complicated country, due to the prevalent insidious poverty.I recommend this book to you, which is part memoir and part fiction, based on Beth's personal experience of her time in Cuba.– Christine BeechPowerful and shocking, starting with heady, hopeful days and moving towards something much darker and thought-provoking. I was completely hooked!– Hannah Powell, author of The Cactus Surgeon
Order Thank You for the Kiss now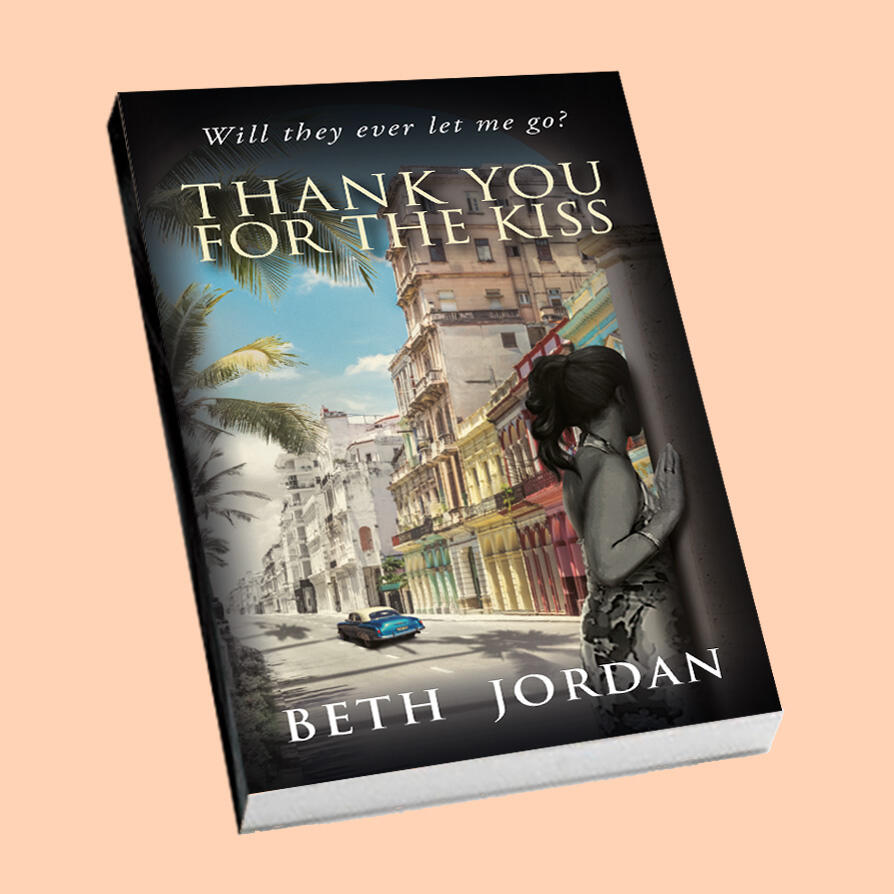 Paperback
Paperback copies of Thank You for the Kiss are available to pre-order for £10.00, with UK* delivery options of 1st Class (£4.95) or 2nd Class (£3.85).Click the appropriate button below and you'll be taken to a secure page operated by our trusted payments partner Stripe.com and returned to this site after your payment.
Limited Edition Hardback
As well as the paperback, there will be a limited number of hardbacks signed by the author available only directly from this website.The exclusive signed hardback with dust jacket is available for £19.99 with UK* delivery options of 1st Class (£4.95) or 2nd Class (£3.85).
Kindle e-book
If you prefer an e-book, you can order from Amazon using the button below.
Two-Book Bundle
Order a limited-edition hardback along with a copy of the paperback that you gan give someone as a gift – £28.50 with UK* delivery options of 1st Class (£4.95) or 2nd Class (£3.95).
If in any doubt, just contact me.
Thank you for your order!You should now receive an email confirmation.Your signed copy will be posted in the next couple of days.If you have any queries then please Contact Me.
I have always felt a misfit with a burning rebellious soul and a thirst for knowledge of global cultures, especially the cross-cultural peoples of the world.I was born in India of Anglo-Indian/Eurasian parents, residing in old colonial railway colonies. We lived a charmed but borrowed european lifestyle, attending catholic convents, far from home and being taught by narrow-minded nuns. I escaped my early cloistered life through my parents' immigration to the UK. Barely here I landed back in the arms of more nuns, until a further escape at sixteen to a teenage life of college.I followed in the footsteps of family into careers in nursing, teaching, and then breaking free by setting up my own business in design and textiles, manufacturing out of China and India.Love, marriage and a child came along to divert the course of my life but I continued studying, particularly anthropology, which further fired my passion for travel and cultures similar to my own. I wrote down their stories, kept copious notes, and gradually melded them with my own heritage. Diary keeping and photography became an obsession and soon, I became a scribbler, until my scribbles became my debut novel – Thank You for the Kiss.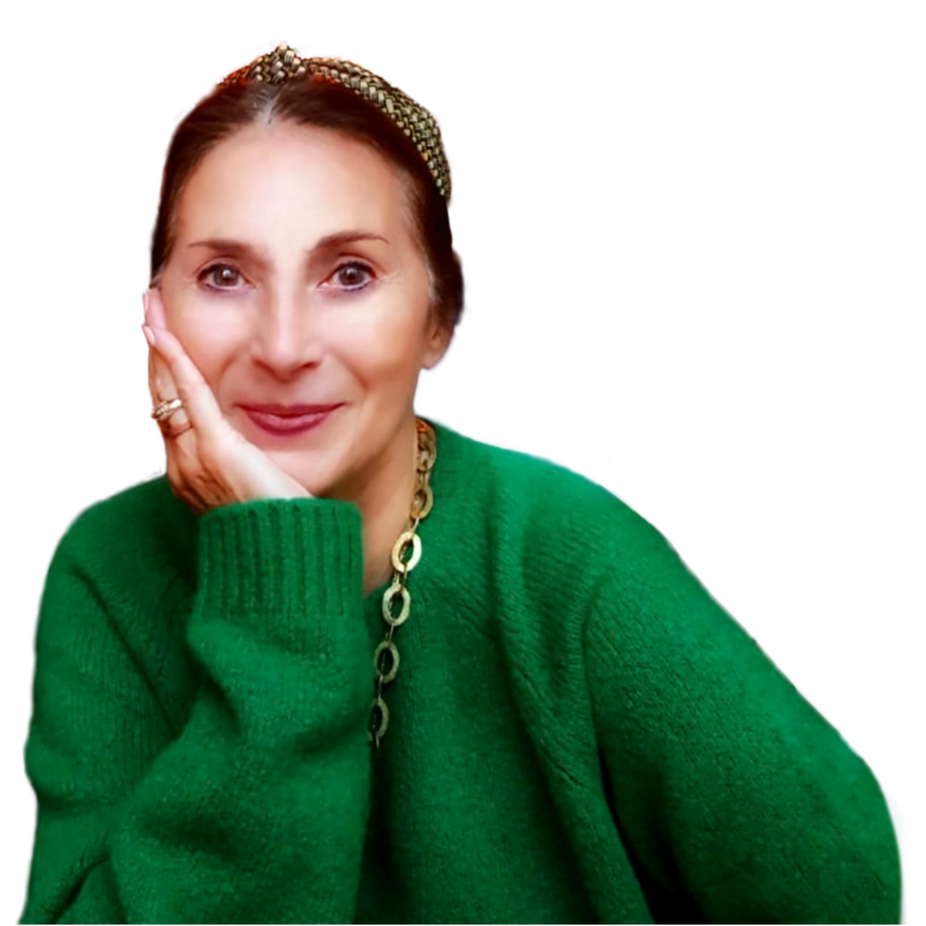 Launch Event Video
21/03/2023
Here's the video from my book launch for Thank You for the Kiss.Many thanks for everyone who could attend at the time.
Published!
14/03/2023
My book is now officially launched and I can call myself an Author or Writer. I have new choices.I shall be organising reading days at my local libraries in and around the Highlands of Scotland and will post dates/times/places on Facebook as well as here.I'm still in a state of shock that I've got myself over the line, with the help of many people, and published this book.  I need to stop for a while and let it all sink in.I'm also hoping to get my book into Waterstones and am awaiting this news.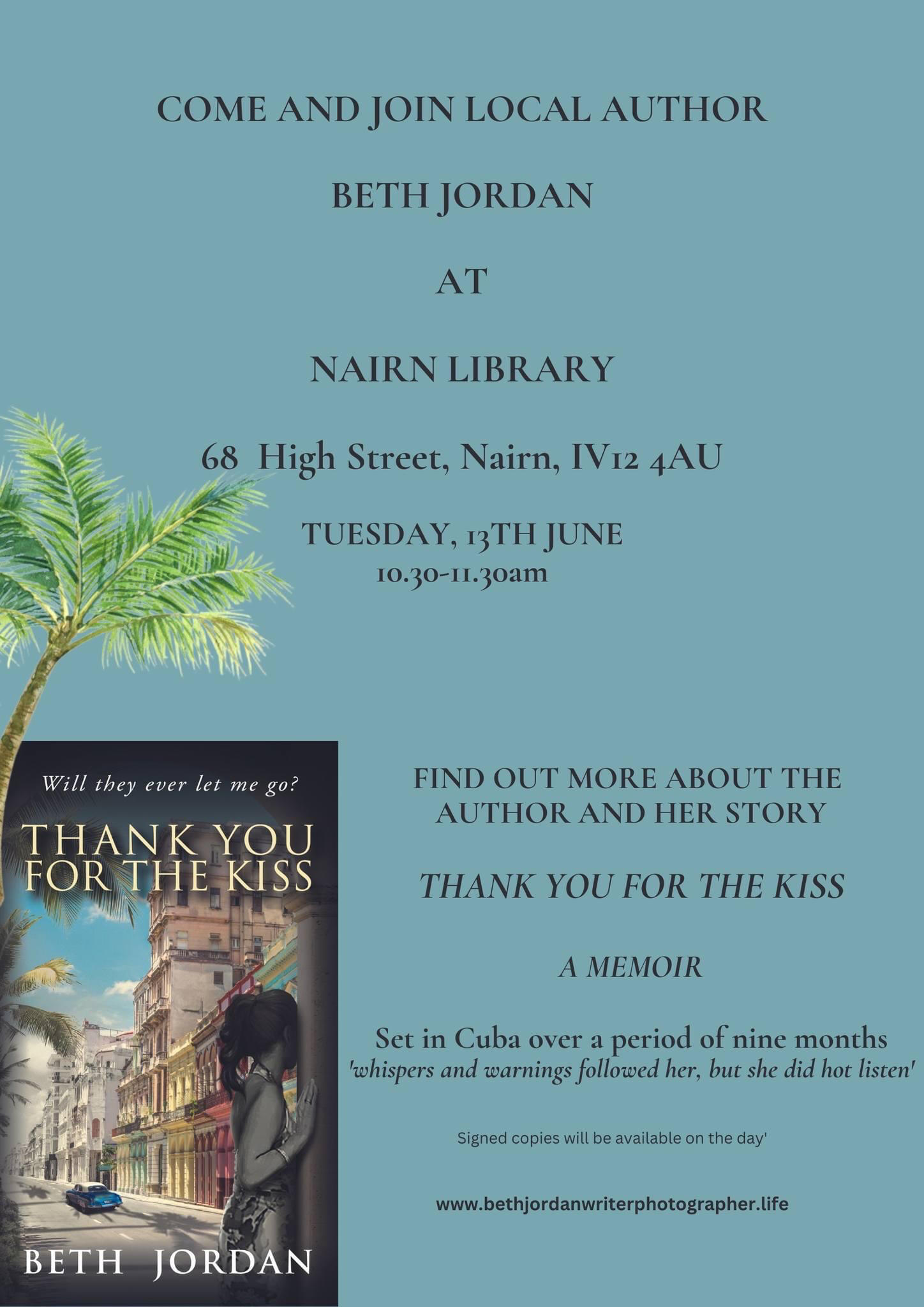 Two weeks to go
01/03/2023
My book comes out in two weeks!Thank You for the Kiss is a memoir based on real life events, set in a country steeped in memories. Those memories which in some way have held back a country and at the same time, created an atmosphere of being in a time warp, which intrigues and enchants visitors, often not as they may expect.
The story's protagonist finds herself in a similar situation when she arrives in Cuba on holiday, and its pervading sense of time-warp encloses itself around her, leading her to make decisions she would not normally make.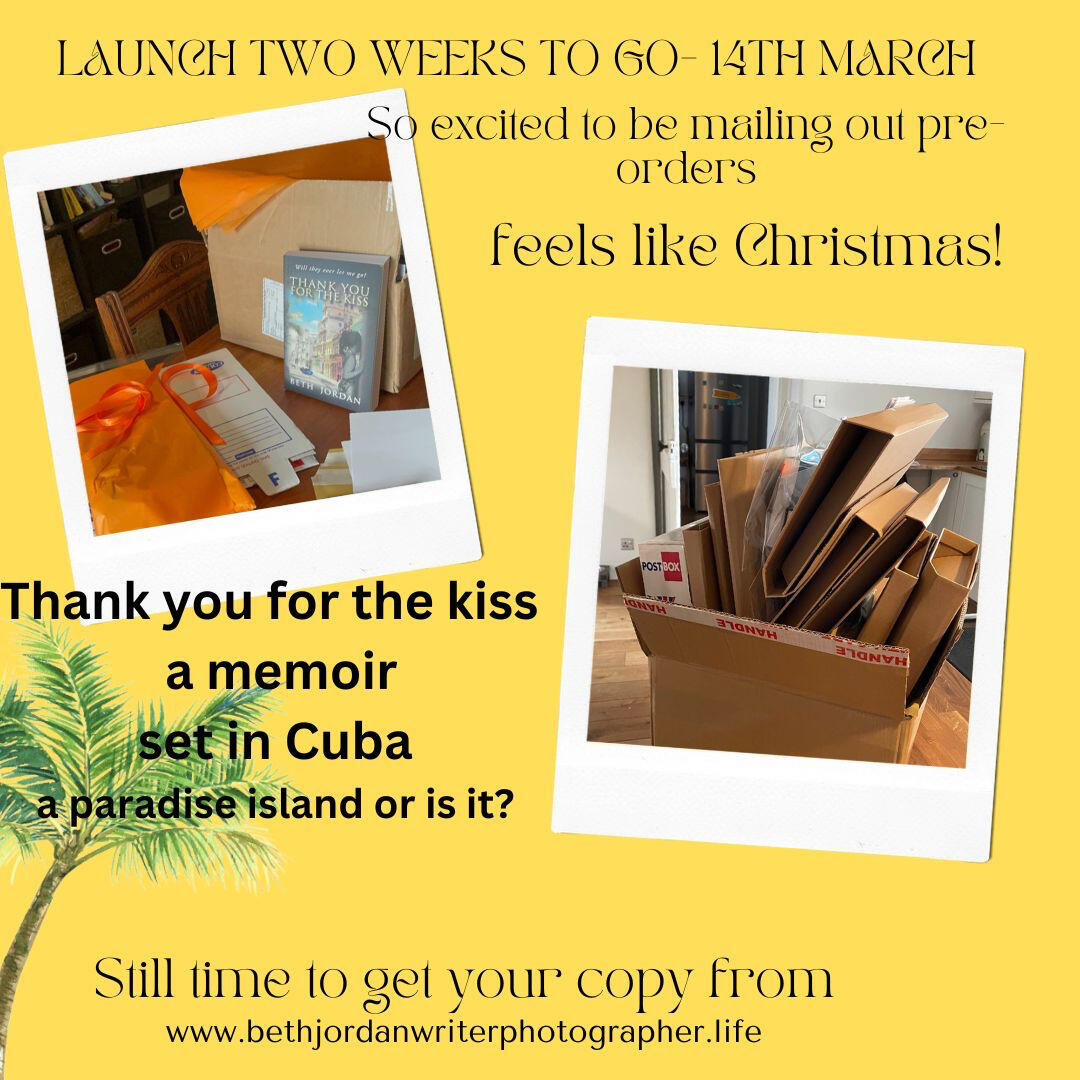 Hello and Welcome
05/01/2023
Hello and welcome to my new website! I'll soon be launching my debut book Thank You for the Kiss, and this is where you'll be able to see all my news up to and around the publication.The title is a hint of the story as it unfolds over the course of nine months in Cuba, a period of pregnant moments, giving birth to the unexpected.Thank You for The Kiss is a story inspired by real-life events, part memoir, part fiction, but which part will you believe?The book is due out on 14th March 2023, but if you want to be kept informed of publication news, simply put your email address in the 'sign up for news' box on the homepage.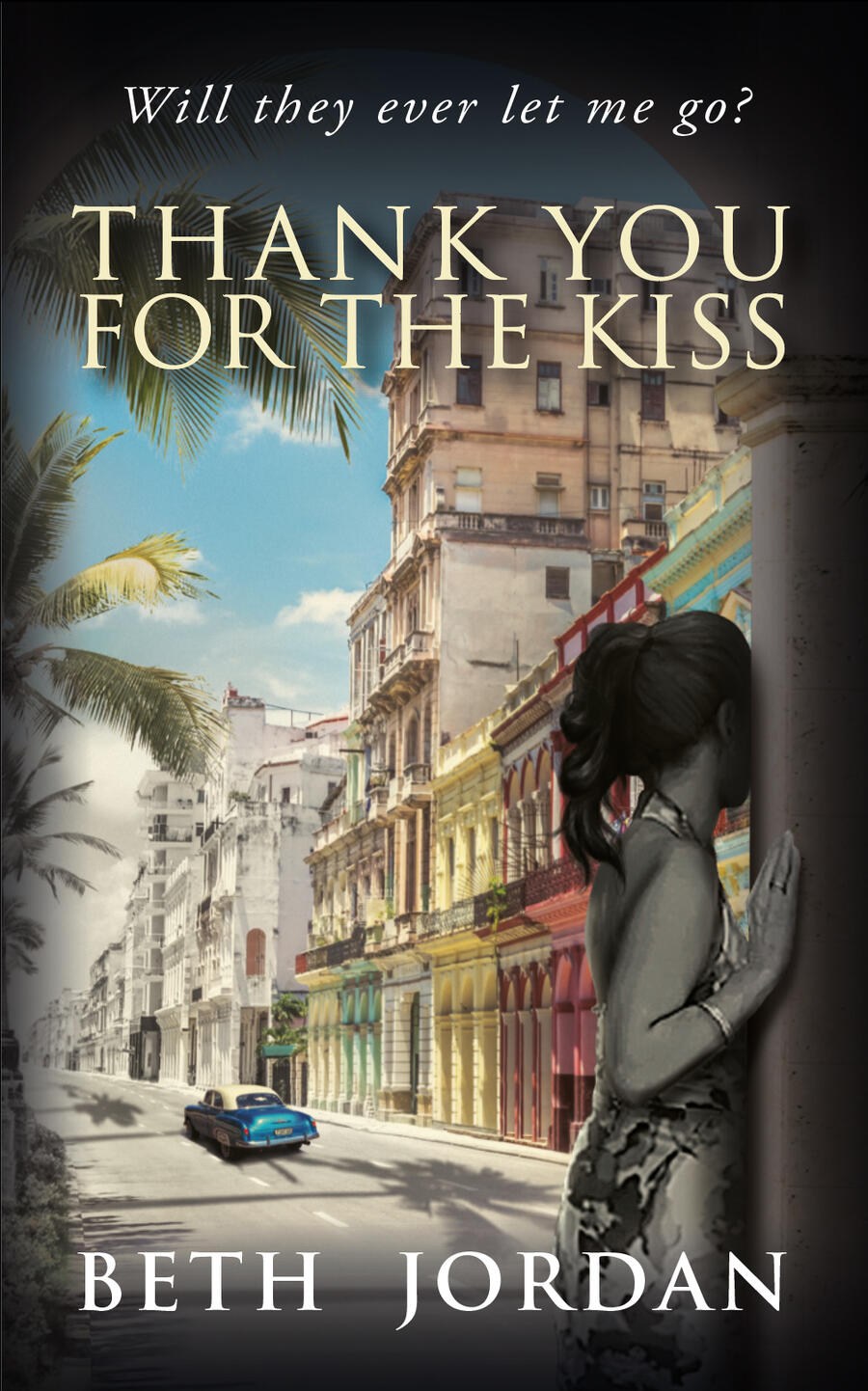 All photographs on this page are © Beth Jordan, all rights reservedClick on an image to see it full-sized
First day in Havana – Sunday Worship
Intriguing Havana – Old and New
A RIDE AROUND HAVANA FOR US$50/HOUR
Trinidad, Cuba
He's not in a prison, but behind the bars in the safety of his house
Down Obispo Street, balcony life
Moko Jumbie – Festival in Havana
Music – the Rhythm of Cuba
To be kept up to date with publication news, sign up to email updates using the box on the homepageFor anything else, send me a message using the form below.
Key detailsThis website privacy policy describes how Beth Jordan protects and makes use of the information you give the company when you use this website.If you are asked to provide information when using this website, it will only be used in the ways described in this privacy policy.
This policy is updated from time to time. The latest version is published on this page.This website privacy policy was updated on 09 January 2023. If you have any questions about this policy, please email thisisitamwriting@gmail.com.IntroductionWe gather and use certain information about individuals in order to provide products and services and to enable certain functions on this website.We also collect information to better understand how visitors use this website and to present timely, relevant information to them.What data we gatherWe may collect the following information:
– Name
– Email address
– Postal address (if you place an order)How we use this dataCollecting this data helps us understand what you are looking from the company, enabling us to deliver improved products and services.Specifically, we may use data:
– To contact you in response to a specific enquiry
– To send you promotional emails about products, services, offers and other things we think might be relevant to you
– To send you promotional mailings or to call you about products, services, offers and other things we think might be relevant to youYou may unsubscribe from email communication at any time by clicking the Unsubscribe link in any email message from us.Payment dataOur payment processing is provided by a secure third-party payment services provide, Stripe.com. At no time is any private payment data such as credit card numbers, expiry dates or CVC numbers given to, visible to, or stored by Beth Jordan.Cookies and how we use themWhat is a cookie?A cookie is a small file placed on your computer's hard drive. It enables our website to identify your computer as you view different pages on our website.Cookies allow websites and applications to store your preferences in order to present content, options or functions that are specific to you. They also enable us to see information like how many people use the website and what pages they tend to visit.How we use cookies– We may use cookies to:
Analyse our web traffic using an analytics package. Aggregated usage data helps us improve the website structure, design, content and functions.
– Identify whether you are signed in to our website. A cookie allows us to check whether you are signed in to the site.
– Test content on our website. For example, 50% of our users might see one piece of content, the other 50% a different piece of content.
– Store information about your preferences. The website can then present you with information you will find more relevant and interesting.
– To recognise when you return to our website. We may show your relevant content, or provide functionality you used previously.
Cookies do not provide us with access to your computer or any information about you, other than that which you choose to share with
us.Controlling cookiesYou can use your web browser's cookie settings to determine how our website uses cookies. If you do not want our website to store cookies on your computer or device, you should set your web browser to refuse cookies.However, please note that doing this may affect how our website functions. Some pages and services may become unavailable to you.
Unless you have changed your browser to refuse cookies, our website will issue cookies when you visit it.To learn more about cookies and how they are used, visit All About Cookies.Controlling information about youWe will never lease, distribute or sell your personal information to third parties unless we have your permission or the law requires us to.
Any personal information we hold about you is stored and processed under our data protection policy, in line with the applicable regulations.SecurityWe will always hold your information securely.To prevent unauthorised disclosure or access to your information, we have implemented strong physical and electronic security safeguards.
We also follow stringent procedures to ensure we work with all personal data in line with the applicable regulations.Links from our siteOur website may from time to time contain links to other websites.
Please note that we have no control of websites outside our domain. If you provide information to a website to which we link, we are not responsible for its protection and privacy.Always be wary when submitting data to websites. Read the site's data protection and privacy policies fully.
IntroductionWelcome to our website. If you continue to browse and use this website, you are agreeing to comply with and be bound by the following terms and conditions of use, which together with our privacy policy govern Beth Jordan's relationship with you in relation to this website.The term 'Beth Jordan' or 'us' or 'we' refers to the owner of the website. The term 'you' refers to the user or viewer of our website.The Contract between usWhen you place an order, including a pre-order, the order is only accepted once full payment of is received. Once payment has been received you will receive an order confirmation. Our acceptance of your order brings into existence a legally binding contract between us.In the unlikely event that the goods are no longer available, or that we have made a pricing mistake, we will email you to advise you of the options.PriceThe price payable for your order is set out on the website along with postage details.AvailabilityIf we cannot supply a product ordered, you will receive an email and have the option to wait until we can get the product or to cancel the order with a full refund.ReturnsThere may an occasion where you may need to return a product. Products can be returned within 7 days of receipt. Please drop us an email telling us why you are returning the product so we can sort the problem out. You will receive a refund if there is a problem with the product or an error on our part.Cancellation by yourselvesIf your order has not been despatched in the stated timescales, you are free to cancel your order by email. Your statutory rights are not affected.Cancellation by usWe reserve the right to cancel the order if we have insufficient stock to deliver the products you have ordered. If this happens, we will contact you to advise when the product will be back in stock.DeliveryExcluding pre-orders, your order will be dispatched within 2-3 working days of being placed. If there is a delay, we will contact you. Please order with enough lead-time as we cannot be liable for any loss caused to you by late delivery. UK orders will be sent by Royal Mail, either 1st Class or 2nd Class post, as requested at the point of order.Pre-orders will be dispatched within the timeframe specified on the pre-order page.The order will be delivered to the delivery address provided. It is your responsibility to provide us with accurate delivery information. If Royal Mail or other delivery partner has attempted delivery whilst you were out, a note should have been left advising you of your parcel.Please note that we cannot be held responsible for any damage caused through postage such as climatic conditions affecting the product. We make sure that all items are in perfect condition before they are sent to you. If your parcel does arrive in a poor condition, please contact us. We shall have no liability to pay any money to you by way of compensation other than to refund to you the amount paid by you for the products in question.Payment dataOur payment processing is provided by a secure third-party payment services provide, Stripe.com. At no time is any private payment data such as credit card numbers, expiry dates or CVC numbers given to, visible to, or stored by Beth Jordan.See the Privacy Policy for further information on data management.WebsiteReproduction is prohibited other than in accordance with the copyright notice, which forms part of these terms and conditions. Unauthorised use or abuse of this website may give rise to a claim for damages and/or be a criminal offence. Your use of this website and any dispute arising out of such use of the website is subject to the laws of England, Northern Ireland, Scotland and Wales.Governing lawThe contract between us shall be governed by and interpreted in accordance with English law and the English courts shall have jurisdiction to resolve any disputes between us.Website disclaimerThe information contained in this website is for general information purposes only. The information is provided by Beth Jordan and while we endeavour to keep the information up to date and correct, we make no representations or warranties of any kind, express or implied, about the completeness, accuracy, reliability, suitability or availability with respect to the website or the information, products, services, or related graphics contained on the website for any purpose. Any reliance you place on such information is therefore strictly at your own risk.In no event will we be liable for any loss or damage including without limitation, indirect or consequential loss or damage, or any loss or damage whatsoever arising from loss of data or profits arising out of, or in connection with, the use of this website.Every effort is made to keep the website up and running smoothly. However, Beth Jordan takes no responsibility for, and will not be liable for, the website being temporarily unavailable due to technical issues beyond our control. If you are having problems please get in touch with us.Copyright noticeThis website and its content is the copyright © Beth Jordan 2023.Any redistribution or reproduction of part or all the contents in any form is prohibited without our permission. You may not, except with our express written permission, distribute or commercially exploit the content. Nor may you transmit it or store it in any other website or other form of electronic retrieval system.